Upcoming Events
Winter 2018
Pot Luck Supper
Saturday, Jan. 27th at 5 p.m.
Followed by a Yankee Swap.
Church Fair
Saturday, February 17, 9am - 2pm.
Kennebunk Baptist Church
77 Main Street, Kennebunk
LuLaRoe Clothing will be available.
Soup/Hot Dog Lunch 11am – 1pm.
Rent a Table for $20
FMI Call Charlene 590-0538
BOWLING
In Scarborough returns in February.
It's bowling plus pizza.
No charge, but donations for the pizza are gratefully accepted.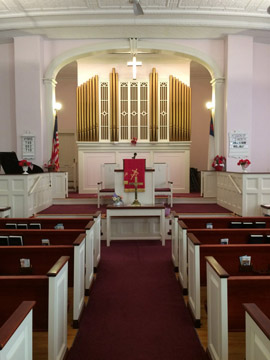 SUNDAY MORNING SCHEDULE
Adult Bible Study 9:30 a.m.
Coffee Fellowship 10:00 a.m.
Morning Worship 11:00 a.m.
Organ restoration images now posted
HERE
.